1992 - 2022 :
30 Years of Paintball… and counting
2022 is our big anniversary year - Paintball.de becomes 30! In this time, paintball has undergone many exciting developments on a global scale. From its early growth period in the woods during the 80s and early 90s, paintball transitioned to spectator focused stadium events in the mid-late 90s, with inflatable barricades and artificial turf adding colour and a new visual language to paintball's journey towards becoming an exciting alternative sport. In addition, the Paintball World Cup was held at Disney World Orlando, USA for many years and is still regarded as the most prestigious event on the global paintball calendar. Paintball's drive towards becoming a more media-friendly product meant Supair (inflatable barricades) was the preferred playing format during the early-mid noughties. Fast forward almost 20 years and paintball realised it needed to embrace everything it offered to all customers, inspiring a renaissance of the classic paintball formats such as woodland, MagFed, scenario and big game events. And paintball has worked hard to adapt, grow, and innovate in an ever-changing world, so have paintball.de. We do not rest. We push, daily, to be the best we can for our customers.
---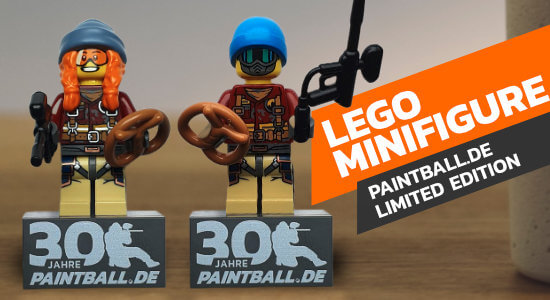 LEGO minifigure paintball.de
As a thank you to our loyal customers, without whom none of this would have been possible, we will give you a limited edition LEGO minifigure with a refrigerator magnet for orders of 250 euros or more.

The minifigure is available in many variants, which one you get is left to chance. Show your minifigure under the hashtag #Paintballde30 in the social media.
---
1992 - 1994
It begins
In 1992 I, the philosophy student, Stephan Wildemann, founded the forerunner to paintballl.de. I called it OPM Paintball Supplies, and it was born in my small student accommodation. Initially I sold small amounts of paintball gear to my enthusiastic paintball friends, but one day someone rang my doorbell and asked if they could buy GOTCHA here. This person drove his car from Munich (!) 600km to Düsseldorf, with nothing more than an address on a beer mat, at this point I realized that there is probably more to this than simply selling to my buddies. And so, It began. I wrote letters and faxes to many paintball companies abroad and waited for replies. JJ Performance, Unique, Armson and Airgun Designs were among the first to respond, which was a very encouraging start. The first store, about 30 square meters in size in a backyard on Moltke Street in Düsseldorf was quickly created. One of the first customers was Thomas Heitmann, also a student and paintball enthusiast. We knew each other from playing in the Düsseldorf harbor, among other places, but that's another very long story. Thomas quickly turned out to be technically skilled and soon became my business partner and should remain so for more than half of my life so far.
In 1993, under Thomas' guidance and in cooperation with the Moosburg brothers, we developed the Venom Co2 cylinder, the first German legal Co2 cylinder with an on-off valve. Not much later followed the first paintball HP system legal in Germany, the 320 HP system, manufactured in cooperation with Air America in the USA. Clearly way ahead of its time. Spearheading such projects and being so involved with game-changing developments was something we truly enjoyed.
By 1993, the store was bursting at the seams, so we decided to make a move to the industrial complex location in Lierenfeld.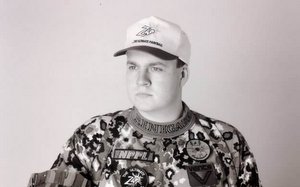 As passionate paintball players we organized many legendary tournaments. The proximity to the Netherlands allowed us to organize early tournaments with international participation, which was always cool to be part of. In 1993, the Borderland Trophy in Brunssum, NL was staged in which the Banzai Bandits (legendary UK Pro Team) attended. The Banzais key players were Ledz, Jules and Jack Wood and our early friendship with these guys would prove very decisive in our future.
In the same year we traveled to America for the first time, to the Paintball World Cup, which was held for the last time in New York City. In 1994 Thomas (Heitmann) won the Amateur NPPL World Cup in its new location, Orlando, Florida with Jack Wood, Jim Frensham and others as a team called "The Firm". Meanwhile, I was at home securing the web domains for paintball.de and gotcha.de and fighting to secure the email accounts, which was quite the battle at the time. To quote Thomas 'Who needs E-Post, we have a fax. It doesn't get more modern than that…'. The rest is history.
1995 - 1999
After many had failed, we succeeded in February 1995 to gain approval and sell the Autococker in Germany under the name Autosniper. This was revolutionary in the sport of paintball, at the time.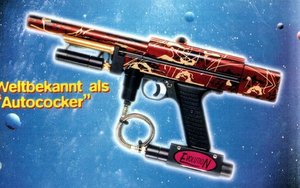 With our now large list of international contacts and strong relationships, from manufacturers to teams of all levels, we managed to organise the 1995 ZAP OPM CUP with 72 5-man teams from 13 nations. Awesome! The event had 6 Woodland playing fields which were built by us, with the support of the resident Rod & Gun Club in Kaiserslautern, Ramstein Air Base which took months of hard work from the ground up. This event became the biggest 5-man tournament in Europe for almost 10 years.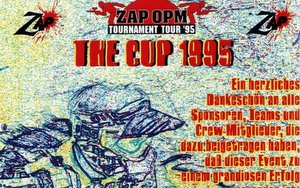 In the same year we took over the exclusive distribution in Germany, Austria, and Switzerland for a small paintball tuning company from England. You may have heard of them, Planet Eclipse, whose chief developer was (and still is) Jack Wood.
As we pushed, improved and grew our business, in 1996 we had to move again to a unit three times as large but in the same industrial complex. This move to our official Langenberger Straße address would remain our home for the next 27 years, and beyond.
Our business continued to grow and alongside our wholesale, retail and manufacturing interests, the establishment of several leagues including the DPL, paintball.de was only missing its own paintball park. In 1999 the time had come to scratch that itch. The Paintball Park Aachen, which had opened only one year before, was to be closed, so we stepped in and took over the park.
2000 - 2009
Paintball's astronomic growth began to reach its peak and after the 'big boom' at the beginning of the 2000s, paintball settled back to a normal level, steadier level.
Regardless of this slowdown of growth, were still able to open a Supairball field through an interim use of an industrial site directly across from our company between 2005-2007. It was the venue for countless tournaments, league play days and training sessions.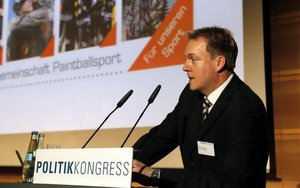 We could not however foresee the potential struggles ahead and in 2009, in the wake of the Winnenden School Shootings, the political system attempted to blame paintball for the events and moved to ban paintball in Germany. This triggered an unprecedented solidarity between the German Paintball Dealers. Under the leadership of Thomas Heitmann, Manfred Ulrich and Stephan Wildemann, the Forum Pro Paintballsport was formed, a body that organized a Grassroot Campaign financed by Paintball.de and MAXS. Thomas traveled to Berlin to meet with a number of members of the Bundestag (German Federal Parliament) such as Eberhard Gienger who was a member of the Bundestag and spokesman for the Sports Committee, and yes the very same Gienger after whom the Gienger somersault on the high bar is named. Here they personally discussed the situation of the impending ban and outline the implications for many trades. I collected donations from the USA paintball industry figures to help the fight against the ban. The world-renowned communications agency Edelmann was hired to reach out to politicians. The players were actively involved and were even able to paralyze the mail server of the German Bundestag with high mail volume on the first day of the campaign. Calls from players to all MPs in their constituency did the rest to get the bill dropped.
In 2010, the Forum Pro Paintballsport won the "achtung! Award - Public Affairs. " Awarded by PR Report Awards 2010. One of our proudest achievements.
2010 - 2015
After Paintball.de tried in vain for many years to open more paintball parks, it has now, finally, become easier for us. The initial road was difficult and sometimes frustrating. I spoke in front of many city councils, planning authorities and other authorities that I didn't even know existed before, and was always met with incomprehension, prejudice, and outright rejection. It was a lot of hard work. But: Bad News is Good News. The politicians did not consider this when they involuntarily gave paintball a stage in the public. And people often support the underdogs, especially when it's shrouded by such an obvious smokescreen of politics. At the beginning of the second decade in the new millennium paintball boomed yet again and many new playing fields were created. The Paintball Park Westfalen in Ahlen was added. The second Woodland Park was opened in 2014. But, in 2015 the unthinkable happened, me and Thomas Heitmann, the two faces that shaped the image of Paintball.de for over 20 years would now go our separate ways. There should, however, be room for two new success stories. Thomas took over the two playing fields, the paintball parks Aachen and Westfalen and I took over paintball.de.
2016 - 2022
As it happened, two long-time friends and business partners of mine, Jules and Ledz (from the Banzai Bandits remember), the masterminds behind Planet Eclipse and their incredible journey as one of the industry's leading companies were looking for a solution to the upcoming Brexit situation. They needed a distribution hub in continental Europe to provide their customers with the same service as always before the new border. So, they approached Paintball.de, based in the heart of Europe and already the largest customer outside the USA, to work more closely with them. This eventually led to Paintball.de and me becoming part of the Planet Eclipse family and as of 2016, Paintball.de is officially part of Planet Eclipse Holding. Although I have been cooperating closely with Planet Eclipse for many, many years, this enabled completely new opportunities. To have my own ideas flow into the development side of things and to work together with probably the best engineer in the paintball industry, Jack Wood, what a thing! A new door opened, into a completely new world, with new possibilities. One such opportunity that I didn't anticipate was becoming the Planet Eclipse historical spares hub and distribute parts of all kinds to as many countries as possible. Boxes upon boxes arrived from England, USA and Taiwan with spare parts needing a centralized location. We now deliver historical Planet Eclipse spare parts to more than 50 countries all over the world.
And it doesn't stop there. Our expertise and capabilities in distribution as well as our vast experience of the paintball industry has helped us to continually adapt our business to suit the needs of our customers. In 2022 we renamed our European retail and distribution business to Paintball.shop (previously eu.paintball.de), making things easier to understand and more consumer focused. Coupled with our abilities to ship to more than 50 countries across the globe means we can acquire and distribute current products to keep our customers happy, wherever they may be. Our product range includes renowned companies, such as Planet Eclipse, HK Army, Infamous, Ninja, Umarex, just to name a few.
For Paintball.de, myself and my business partners, the slogan "Quality wins" have gone hand in hand for 30 years. And nothing will change in the future.
Be curious and embrace whatever the future may bring.