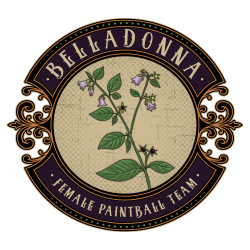 Welcome to the Official Belladonna Fan Shop!
Here you will find exclusive BLDN fan products and merch. Our range extends from jerseys to leisure and play clothing as well as other great fan products.
We regularly expand the Belladonna range, so it's worth checking back regularly so that you don't miss any exclusive offers, specials and other products!
View all Belladonna products
The story of the team's origin
In January 2023, Team Belladonna saw the light of day. A year earlier, the first Women NXL took place in Europe. Bianca "Bibi" Bender, part of the winning team, already had plans to create her own all-women team for the 2023 season. Bibi gathered the top players from Germany, France, Belgium, England and Sweden. The coaches Quentin Duchene (Breakout Spa) and Felix Mueller (formerly Infamous) quickly recognized the immense potential of this project and were immediately willing to contribute with their knowledge.
Meanwhile, Team Belladonna consists of fourteen players from five nations, including the first women of the NXL Pro. They are ready to fight hard and establish their name in international paintball. Their goal at this year's WNXL is to show that they are an integral part of the global women's pro paintball scene.
The deadly beauty of the belladonna flower inspired the team's motto and name.
Plans for 2024
Our goal of becoming the best European women's paintball team that we set has just been missed by the narrowest of margins. Those who know us know that we are happy about being European runners-up, but we are here to stay and win. And there is more to come!
We would like to thank Paintball.shop, especially Stephan Wildemann and Planet Eclipse, awesome CS3, for supporting us and making this possible.
We hope you will support us, too, and help to make this happen. Everything that you buy from us here will go back to us in a certain percentage, so that we can reach our goal of becoming the best female team in Europe! Shoot Eclipse! Wear Anthrax.
Girls Day!!!
Saturday, 14th October 2023, 10am to 3pm at Breakout Arena
Calling out to all the spirited ladies out there! A day fully devoted to our Paintball girls – a special shoutout to wives, daughters, sisters, and every girl aged 6 and up! Everyone is welcomed to join us for a day of excitement and bonding. Come, have a blast, and get to know the Belladonna Girls. Who knows, you might even be inspired to become a part of our dynamic team! See you there!
---
Limited Edtion Team Markierer
Starting from beanies, t-shirts all the way to jerseys and more you can find here. We are in close contact with the team and regularly expand the range of Belladonna fan products.